State VALE Award Period: July 1, 2023- June 30, 2024
#FFFFFF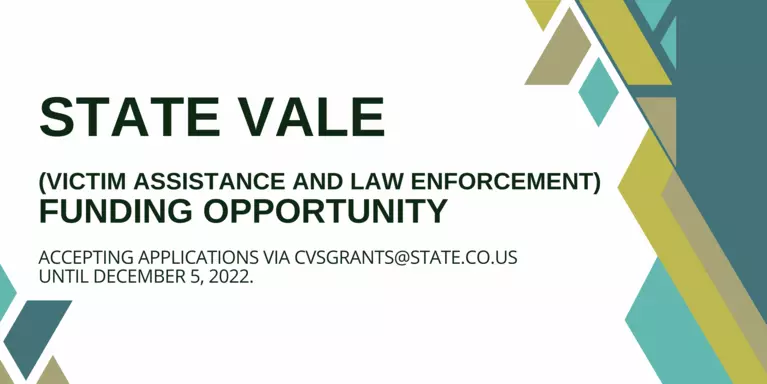 #FFFFFF
What is the Purpose of these Funds?
The purpose of State VALE funding opportunity is to enhance statewide victim services conferences and training series for victim services professionals in Colorado. Project activities must occur between July 1, 2023 and June 30, 2024.
Eligible Applicants: Not for profit organizations, state agencies, tribal government and local government agencies.
Eligible Projects: Requested projects should:
Enhance statewide victim services conferences and or training series;
Benefit the entire state or multiple regions in Colorado;
Strengthen and build capacity of victim services professionals and providers across the state to respond effectively to victims of crime and provide a greater understanding of the Victims Rights Act; and
Support the improvement of coordinated services between community-based and criminal justice-based victim service agencies.
How Do We Apply For Funding?
#FFFFFF
Step 1:  Download and Save 
Download and Save: 
Helpful Video Instructions:
#FFFFFF
Step 2:  Complete and Submit Your Application and Attachments
Complete and Gather your Required Attachments:

Sources of Income (Nonprofit Agencies Only)
Job Descriptions (Required if requesting personnel)
Current Federally Negotiated Indirect Cost Rate Agreement (If applicable)

Submit your Application And Required Attachments via email to cvsgrants@state.co.us by 11:59 p.m. on December 5, 2022.