(Jan. 11, 2021) - January is National Slavery and Human Trafficking Prevention Month and January 11 is National Human Trafficking Awareness Day.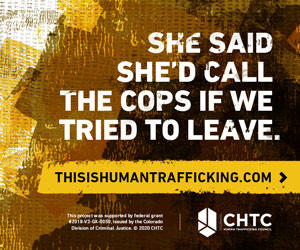 Having launched a human trafficking awareness campaign in November 2020, the Colorado Human Trafficking Council is ramping up outreach efforts in January to help raise awareness about this hidden crime by educating Coloradoans about the many forms of human trafficking. A simple definition of human trafficking is the severe exploitation of another person through force, fraud, or coercion for some type of labor, including commercial sex. Learn what to look for at Thisishumantrafficking.com.  
The Colorado Human Trafficking Council works year-round to address topics such as policy, data collection, vulnerable populations, and services related to human trafficking. Learn more about the Council's initiatives in the 2020 Annual Report. 
Community members can also help combat human trafficking by participating in or sharing a training or event. See below options this month.  
Innovate Colorado's Introduction to Human Trafficking in Colorado Presentations
The Colorado Departments of Public Safety and Human Services are hosting a series of 1-hour Introduction to Human Trafficking in Colorado presentations via Zoom for anyone interested in attending. 
Registration is required at least 48 hours in advance. 
Saturday, January 16, from 9:30 - 10:30 am
Monday, January 28, from 7:30 - 8:30 am
The Laboratory to Combat Human Trafficking Offers Public Awareness Training
The Laboratory to Combat Human Trafficking is hosting a training on Tuesday, January 26th on the impact of human trafficking on the region and state of Colorado. RSVP to this event:
Tuesday, January 26, 11:30 am to 1 pm
Tuesday, January 26, 7:30 to 9 pm